NBA LIVE Mobile Basketball
2.2.0
Basketball Game – Enjoy Playing Professional Basketball on Your Phone
Are you passionate about basketball? Do you regularly watch the NBA and are a supporter of one of the teams? If yes, then this basketball game is definitely going to excite you. NBA LIVE Mobile Basketball is an entertaining game in which you get to assemble your favorite players to create your NBA dream team and lead them to victory. It offers you the chance to perform all the slam dunks and trick shots that the professionals in the NBA execute on a daily basis. The immersive gameplay and great graphics make playing this game a visual treat. You need to have a steady internet connection in order to play this game. Any loss in internet connection will cause the game to restart.
NBA LIVE Mobile Basketball is not that difficult to play. The controls of this basketball are both simple and intuitive, making it easier for anyone to get used to them pretty quickly. There is a tutorial provided at the start of the game which takes you through the basics like dribbling, driving forward, shooting and executing a slam dunk. You can control a player and dribble using a virtual joystick located at the bottom-left corner of the screen. The buttons for driving forward and shooting are located on the screen's bottom-right corner. Shooting from outside the opponent's box gets you 3 points. In order to perform a slam dunk, you need to drive forward and then slide the 'shoot' button upwards and release it when you approach the hoop.
This basketball enables you to choose the NBA team that you like and follow and include your favorite players in it. You have the option of building an all-star lineup that is capable of winning the league. You can get the players from card packs that can be earned by completing objectives. The players you get need to be trained in order to increase their level and abilities. Do remember that players who have a higher rank are able to perform trick shots and have a higher shooting accuracy than players who are ranked below them. There are training points available which can help you in leveling up your players. Always keep an eye on team chemistry if you want your team to succeed.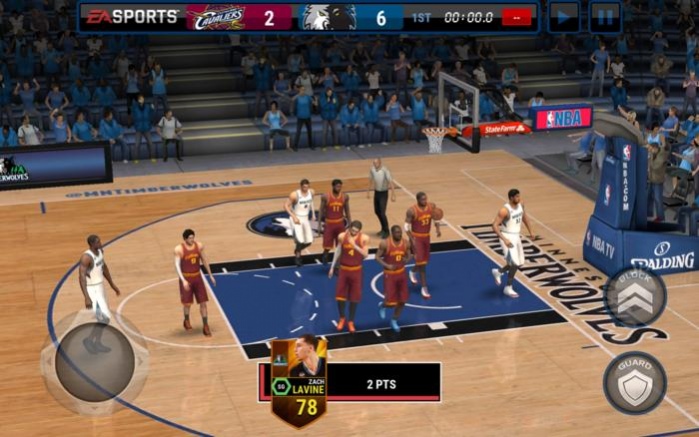 NBA LIVE Mobile Basketball offers multiple game modes to you. Some of the game modes are available to you from the start of the game while others get unlocked as your own level increases. There is the league mode in which you have to participate in league matches and try to outscore the opponents. Each win you get in a season adds to your team's reputation. In addition to the league mode, there is a PvP mode in which you get to take on teams of other players and find out who is the better baller. You also have live NBA events available which let you win great rewards. This basketball game provides you the opportunity to become the master of the outdoor basketball scene too and challenge NBA legends.
Features:
Multiple game modes
Lots of objectives to complete
Assemble your own all-star NBA team
Train the players to level them up
Perform slam dunks and three-point shots
Win PvP matches to increase your team's reputation
Take part in the league and lead your team to victory
Participate in live NBA events and win rewards
Become the master of the outdoor basketball scene
Compete against NBA legends and beat the best
Conclusion:
NBA LIVE Mobile Basketball is a gaming app which is marketed towards fans of basketball. It allows them to play basketball on their handsets just like the way it is played in the NBA and score lots of three-pointers and slam dunks using all of their favorite basketball superstars. It is definitely a must-have basketball game for NBA enthusiasts.
---
Add a review
Tell us your experience with
NBA LIVE Mobile Basketball
2.2.0
RELATED PROGRAMS
Our Recommendations
---
---
---
---